Best 2 in 1 Danish Design All Weather Dog Coat
£14.50 – £28.00
This is the ultimate 2-in 1 all weather dog coat. It has a removable polar fleece lining which makes this coat ideal for both the winter and the warmer weather. To keep your dog warm throughout winter and cooler weather just attach the polar fleece liner. For warmer weather, just remove the fleece liner to convert to a raincoat. It is a very attractive coat which is easy fit with an adjustable reflective Velcro strap around the chest. A good range of sizes and colours:
Available in numerous sizes and many colours including: Black, Grey, Orange, Blue, Khaki, Purple and the award winning Hi-Viz.
Description
To accurately measure your dog for the all weather dog coat, measure around your dogs chest and also from the collar down the back to the base of the tail. Some coat types may need a neck measurement as well. Order the 2-in-1 dog coat by measuring from collar, down the back to the base of the tail.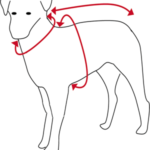 A very popular, great performance dog coat. Quite unique in that it has a removable thermal polar fleece liner. A multi functioning coat which is windproof and waterproof with full chest protection. Easy to fit with adjustable Velcro fastenings and is easy care machine washable. Available in some great colour choices to suit all breeds, including a hi-viz option for the dark morning and evening walks.
Best 2 in 1 All Weather Dog Coat Review
This 2-in-1 four seasons coat is just the job for use throughout Autumn, Winter and Spring. The fleece liner provides the extra warmth in winter, which is easily removed when the weather warms up, but is still wet and windy. Gives complete protection whatever the weather.
Additional information
| | |
| --- | --- |
| Colour | Black, Grey, Orange, Blue, Khaki, Purple, Hi-Viz. |
| Size | 25cm/10″, 30cm/12″, 35cm/14″, 40cm/16″, 45cm/18″, 50cm/20″, 55cm/22″, 60cm/24″, 65cm/26″, 70cm/28″, 75cm/30″ |